Chinchero to Urquillos: All downhill…
When Yiqian and I were ready to leave Chinchero, we asked directions for the path that would take us down through the canyon to the Vilcanota River that runs through the Sacred Valley. It is a little-known walking trail and indeed, we did not encounter anyone, except on farmer and his dog, on the trail until we approached the village Urquillos, near the river.  
Here are some photos of this tranquil walk.
The trail begins near these massive agricultural terraces that date from the Inca empire.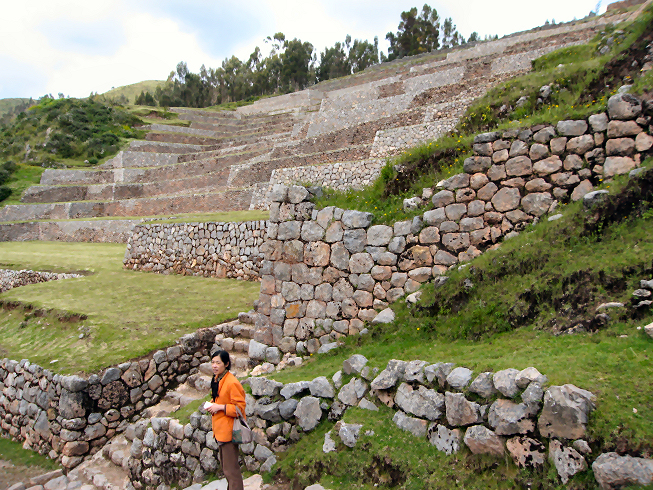 It was not long before we were walking alongside a gurgling creek, with many waterfalls.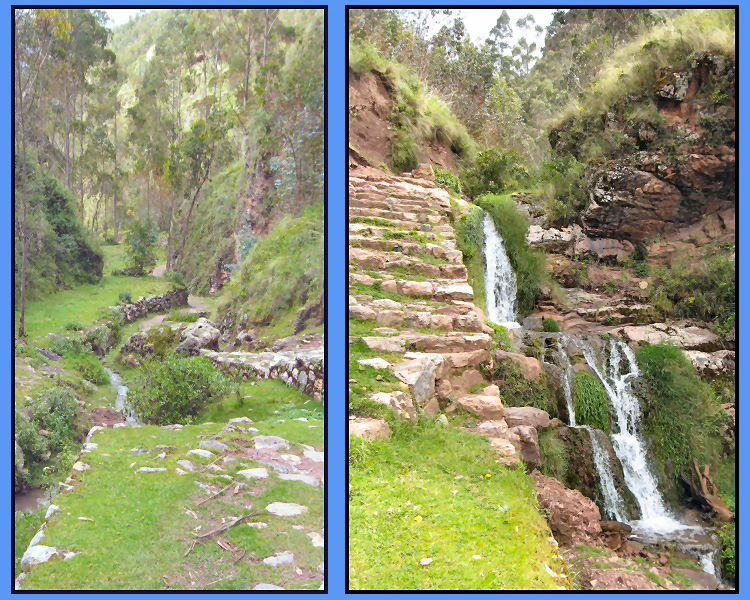 The wildflowers bloom most profusely in the fall in the Sacred Valley—after a summer's worth of rainfall.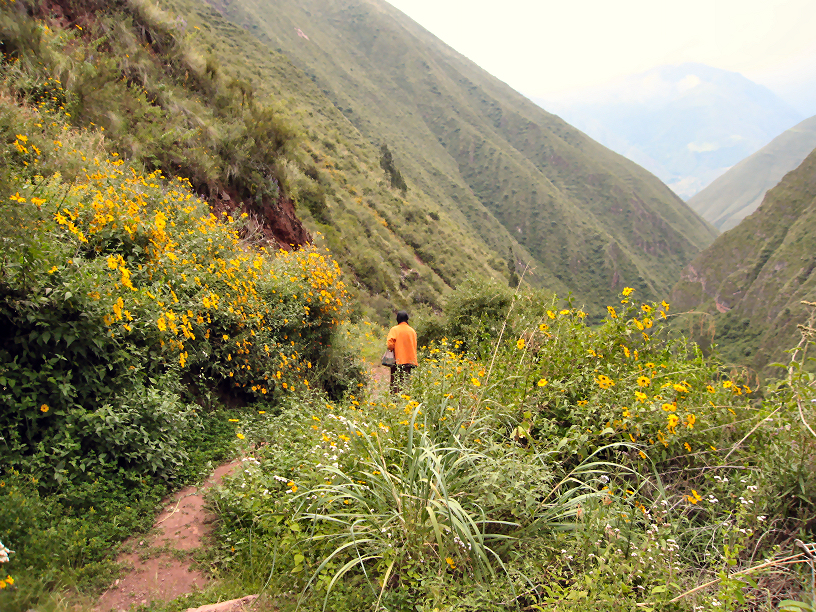 Eucalyptus trees are grown here in woodlots for firewood and building.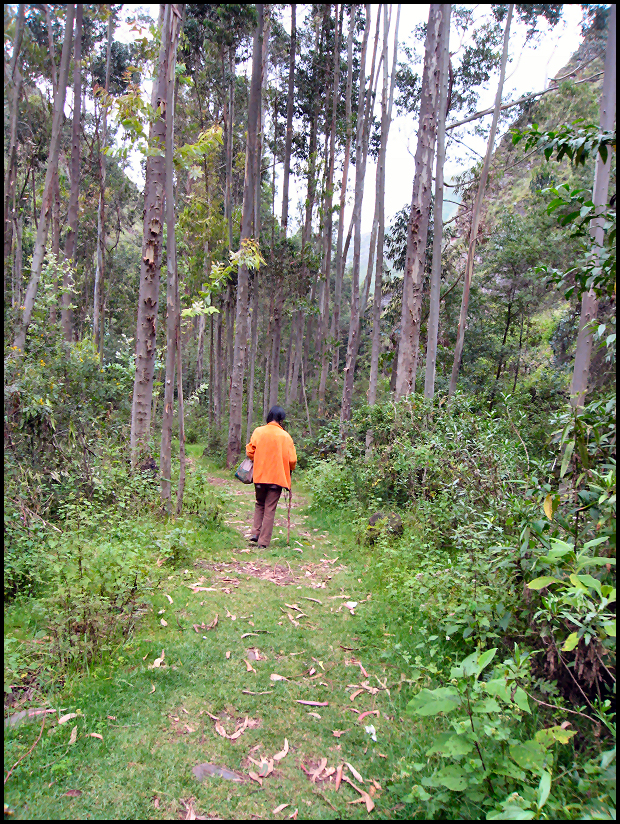 Where the water does not run naturally, artificial canals, like this one, have been built for over a thousand years to direct it to the crops.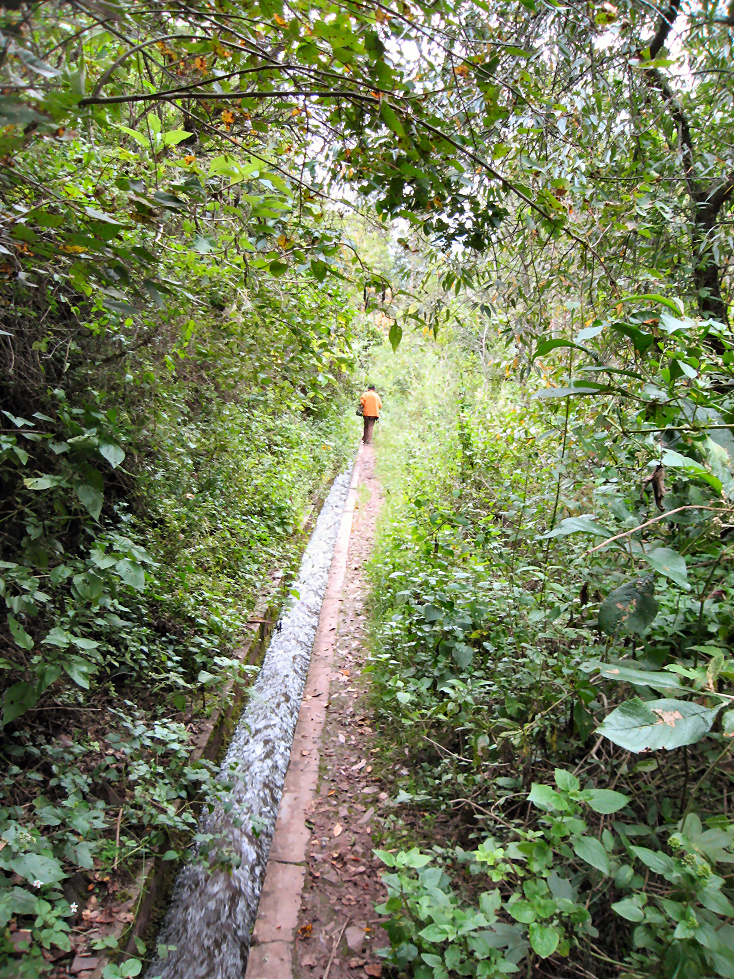 We arrived at the mighty Rio Vilcanota just as dusk settled. From here we could catch a bus back to Calca.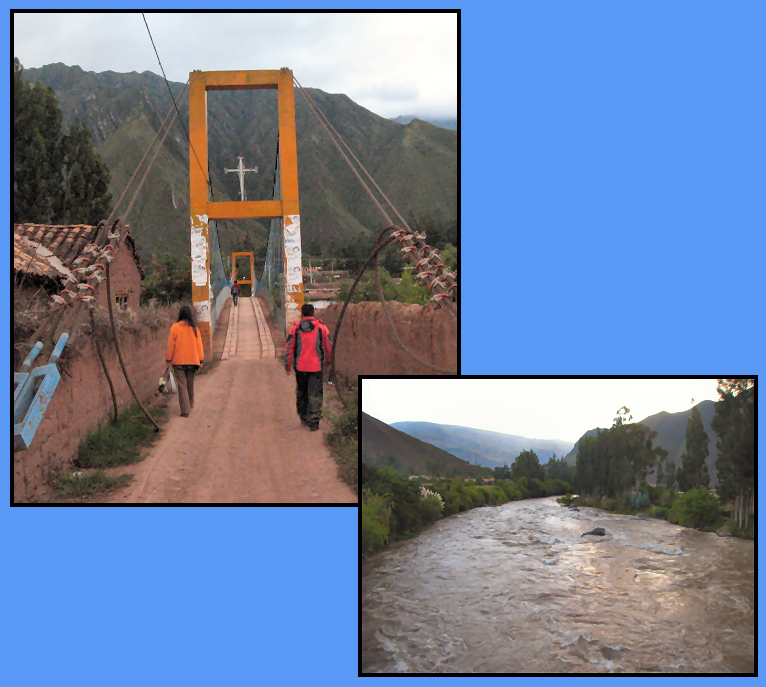 The only difficulty for me was the fact that the entire trail is downhill, losing 2800 feet in 5½ miles. At least the amount of oxygen in the air at 12,000 feet was not a problem—going downhill requires little cardiovascular exertion—but my 60-year-old knees did a little complaining.
If you are thinking of taking this hike from Chinchero to Urquillos, here are a couple maps that might help: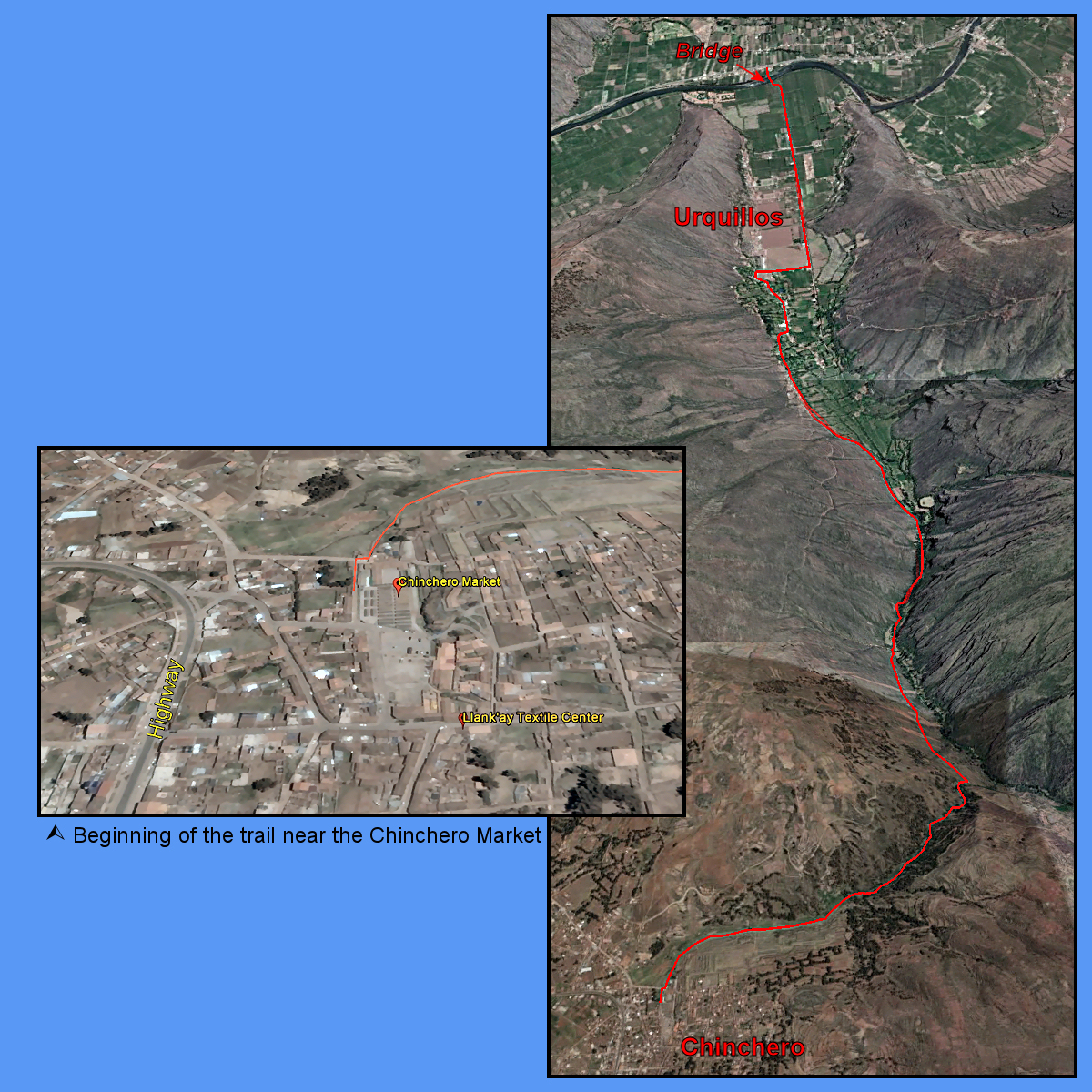 It is easy to find your way…anytime you have a fork—just choose the one going downhill. Once you get to Urquillos, it might be helpful to ask how to get to the bridge ("puente" in Spanish). Allow about 3-4 hours for the trip—longer if you eat lunch or take lots of photos
Despite the pain in my knees, I would do the trip again. I think it is just about the most beautiful hike I have done in Peru. And it is not likely you will meet any tourists.
Other Blog Posts You May Find Interesting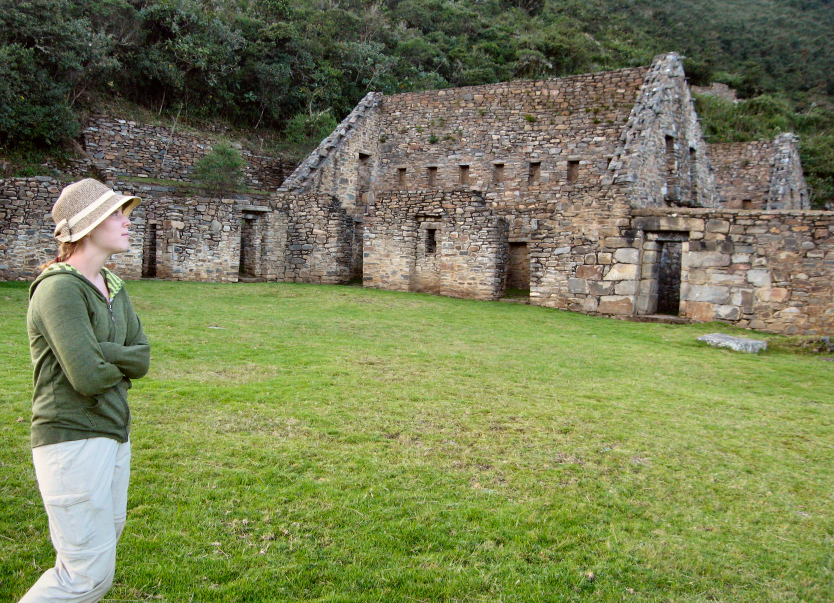 Choquequirao is considered to be a sister-site to Machu Picchu, but few people know about it. Researchers believe the site may be even larger than Machu Picchu. A very difficult 4-day trek in and out is required to visit these remote ruins.
Read More »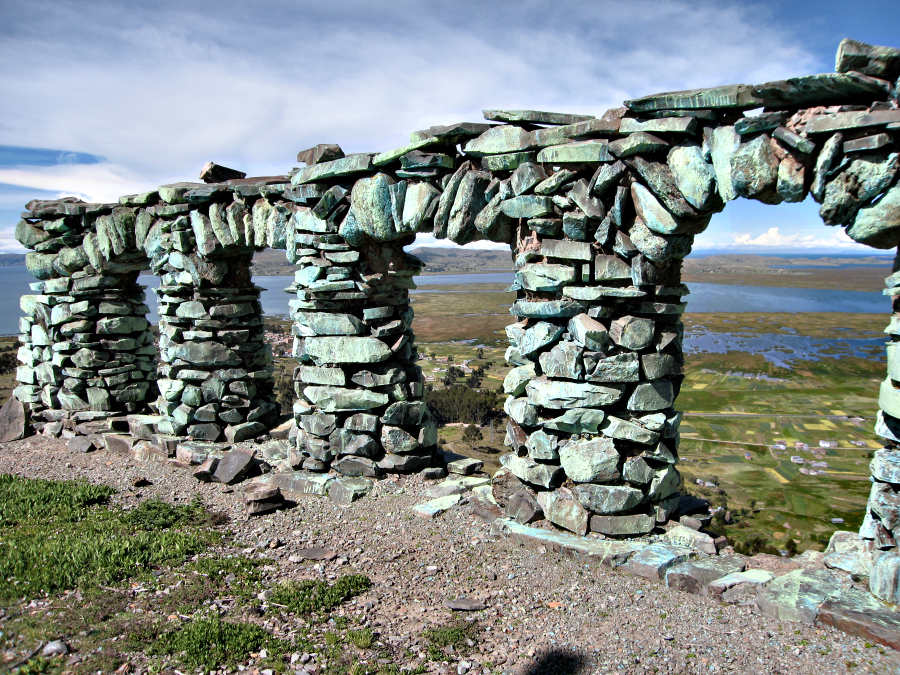 The tiny pueblo of Chucuito (about a 30 minute combi ride south of Puno) is well known for the arches you see everywhere.
Read More »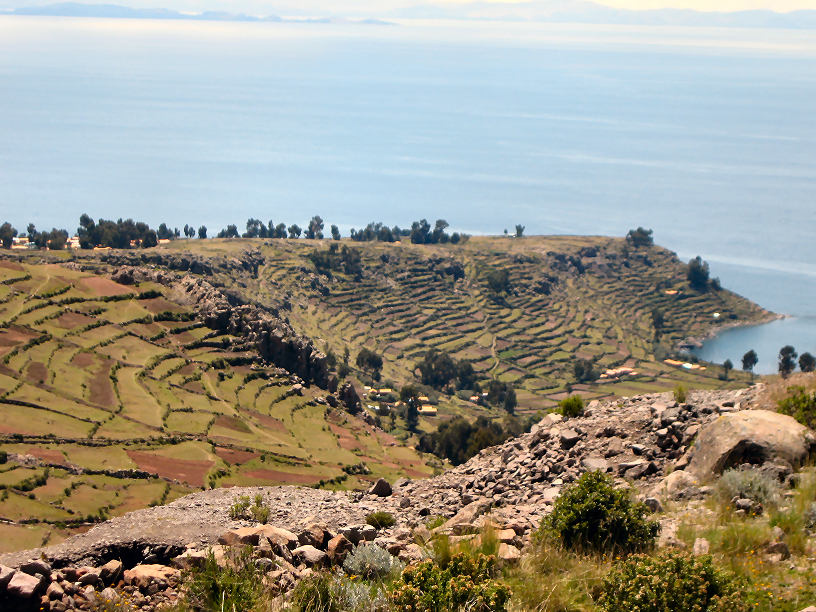 The tienda faces the plaza and there were some young men outside on the steps. Meliza and I moved outside to sit near them. I asked if they could spin. Freddie, sitting next to me smiled broadly and said yes, and he started using the little Turkish spindle while his friend tried out the one that Ben made me.
Read More »